New Zealand Holiday
By Phil on Monday, May 11 2009, 20:42 - General Crapola - Permalink
Our trip to the South Island of New Zillund.
Day 1
Flight delayed by 3 hours due to a faulty radio on our aircraft. This meant we didn't get to Christchurch until 6.30pm NZT so we couldn't pickup our campervan today. Pacific Blue were nice enough to give us meal vouchers worth a whole $6 that we could use - once we got on the aircraft after lunch. We're staying at an airport hotel tonight and picking up the van tomorrow morning then heading south towards Lake Tekapo and Queenstown.
Day 2
Picked up the campervan after being screwed around by the hire company because they wouldn't accept the credit card authorzation form that they sent us. Finally got on the move. Headed south out of Christchurch towards Lake Tekapo. Stopped in at a little cafe just outside Fairlie before reaching Lake Tekapo. Cold and windy at Lake Tekapo. Further on to Lake Pukaki and stopped for a look at the spillway. Quick stop at the supermarket in Twizel then stayed overnight at Omarama. Good pub, big feed. Went to the hot baths there. Pretty cool setup. The tubs are outside and when it's raining it's quite strange to be sitting in a tub of hot water -- but enjoyable, Froze our arses off in the van with the poxy little blanket the campervan came with.
Day 3
Packed up and headed south again through Crompton to Queenstown and stopping for lunch in Arrowtown which reminded us of Walhalla - a mountain gold-rush town. Nice burger from the American bloke at the corner cafe for lunch. Queenstown is awesome. Walked around town, booked activities for the next day. The lady at the information centre recommended a little pizza bar called Winnies for dinner. If you're in Queenstown, go to Winnies. It's upstairs in the mall next to the cinema. I'd go back to Queenstown just to eat at Winnies.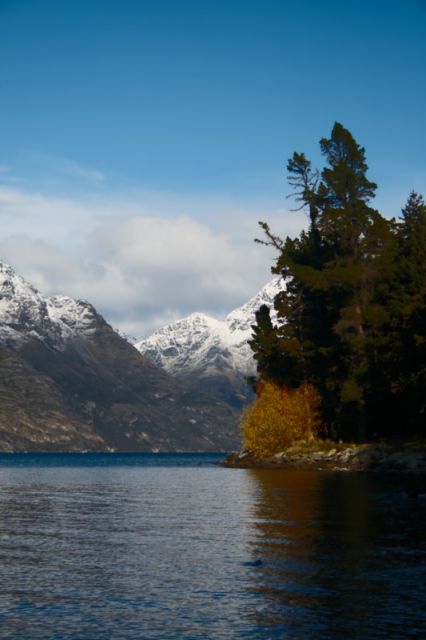 Day 4
We were supposed to do a fly-cruise-fly trip into Milford Sound, but we got a call about 9.00am to say that it was cancelled due to bad weather in the sound - oh well, something for the list for next time!
Did the Jet Boating on the Shotover River = Fscking insane fun.
Instead of the flight to Milford Sound, we went on a Helicopter flight to Mt Mango in the afternoon, then did some shopping and had some down time before heading into town for a Winnies dinner again.
Day 5
Due to the bad weather up the west coast, we decided to change our plans and head south towards Dunedin instead of over the mountains to the west coast and north. We ended up going even further south than Dunedin to the Catlins on the advice and recommendation of a fellow campervan bloke I chatted to at the holiday park in Queenstown. I can't remember the name of the place we dropped in to visit this old lighthouse: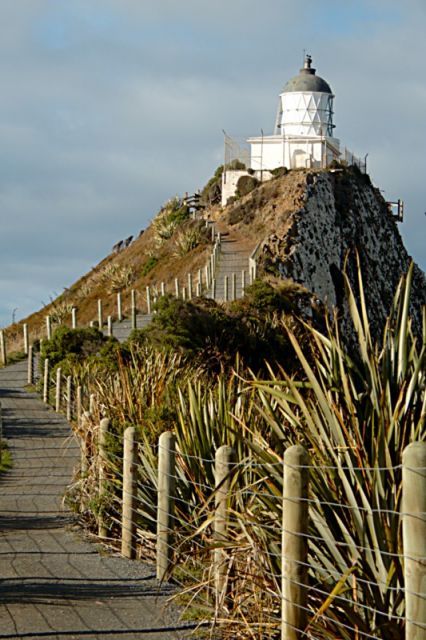 Stayed at an isolated place called Whistling Frog Holiday Park near a place called Chaslands. Not quite the middle of nowhere, but you can see the edge of the world from here. It's a nice park with Cathedral Caves nearby (closed for winter) as well as McLean Falls on the Tautuku River.
Went for a drive further south past Niagra to the petrified forest on the coast. It was getting dark so couldn't find much of the alleged petrified wood, but we did find a couple of Yellow-Eyed Penguins on the beach. We were conned by someone with a sense of humor after visiting Niagra Falls. This pathetically disappointing disturbance of water is barely more than 2 feet high and the water flows gracefully over rather than falling.
Day 6
Headed north out of the Catlins back through Dunedin (not much here - a bit of a hole, I wouldn't bother wasting my time going back) to Oamaru (another bit of a hole. Dropped in at Moeraki Marbles and Shag Point to see the Fur Seals.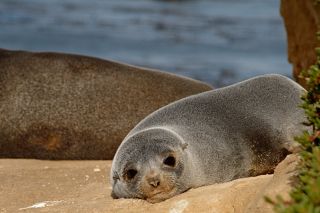 Day 7
Kept heading north to Christchurch. A quick drive around the City Center then east out to Akaroa. Not a bad place -- good squid at the local fish and chip shop. Nice views from the caravan park but a hell of a walk up the hill from the town to the van.
Day 8
Flew home (departed on time!) via Brisbane. It was quite disappointing to arrive in Brisbane to find it pouring with rain. We wanted some sun on our trip home! Also dissappointing to have Pacific Blue flog us NZD$200 for excess baggage, when the plane was only just over half full! (100 passengers on a 180 seat plane)